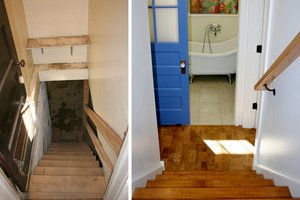 One of the biggest home renovation challenges can be creating space in a small, main bath where no space actually exists.
First, let me say that I think Mr German is an excellent teacher, especially for idiot novices like myself. I've had difficulty with other DIY books assuming a certain vocabulary. German provides an excellent intro to DIY in framing, carpentry, plumbing, electrical etc. I now feel I can start reading more advanced DIY books on each of these topics.
Before you begin applying foam insulation you should clean the surface of gross dirt, debris, and oil. Foam insulation sticks to everything except oil. It is still best to remove any accumulation of dirt and debris. A simple sweeping should be sufficient to prep the surface. Oil should be scrubbed free of any surface as the foam will not stick and will pull back as it dries, leaving a small gap in your insulating project. A small gap can undo a large portion of the benefit gained.
Amy – Yes, 5k is with all the goodies. Plumbing rough-in, tile floor, tile shower back-splash, new sink, etc. Pimp Daddy. Let's say you used a vinyl floor (the new vinyls are really nice) a standard shower with tub – base cabinet, little to no molding and no closet (mine has a closet). I think you could frame, drywall, electric and finish a bathroom for about…. 2k? Maybe 1k if you really hustled and got some stuff from Craigslist, Freecycle etc.
We are planning on starting our basement soon and slowly finishing over this year. We'd like to do as much as possible ourselves to save money. Do you have the steps involved listed anywhere? We're looking for some guidelines as far as where to start and what order things need to be done in. The plumbing for the bathroom is roughed in from the builder and there is some framing done, but we'll need more to put up walls for a bedroom. There is also some electrical done as we have 2 lights down there but we'll need to make some changes.