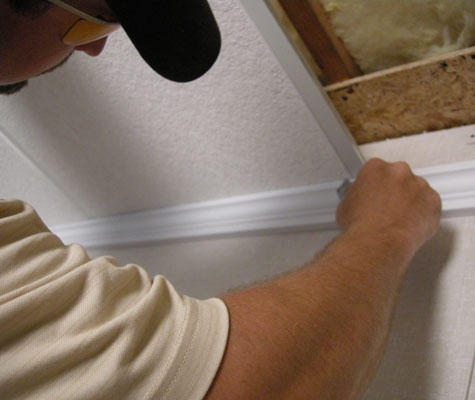 A recent kitchen renovation project inspires new woodshop storage ideas for my garage: recycle the old kitchen cabinets into new storage space. I also like the idea of reusing as much salvaged material as possible to reduce landfill many remodeling jobs, the old kitchen cabinets do not retain any cash value and to the contractor, they are not worth the time and effort to save. All too often, the contractor rips out the old kitchen cabinets to make room for the new cabinets. Rather than removing the cabinets carefully for resale or donation, the old cabinets are broken down and tossed aside. Deemed worthless, the old cabinets are doomed to the dumpster and destined for the landfill.
Vinyl's also really good because you never have to paint it like you do hardiplank The colors actually mixed in when it's manufactured, so choose wisely. One thing to point out is that you'll typically not find too many dark colors for vinyl siding, instead you'll see a lot more earthy and lighter tones. Oh shucks, you say, you really wanted a dark blue or black to make your house disappear at night. Well, there's good reason for it, the darker colors absorb the heat which in turn makes your utility bills go higher. Since that's not a really popular choice to purposefully make your utilities cost rise, they don't manufacture it to frequently.
I am thinking of finishing my basement. I live in Lynn, MA and it is roughly 600sq feet in size. In order to save cost, I am only thinking of finishing about 450 – 500sq ft of the basement. I received one quote from a well known basement finishing company for about $28k for 500sq ft of space. I received another quote of about $24k for finishing 450 sq ft. In both estimates, the price includes materials and labor, permits, framing, electrical, walls (I am not using drywall, but removable panels), drop ceiling, lights, and flooring. It does not include paint and for the cheaper estimate, it does not include carpet leading down to the basement. I was quoted about $600-$800 extra for the carpert.
The next step is installing the flooring. I like to start from an outside wall, these are generally the straightest wall in a home. I start by using the spacers that come with the install kit so I leave a gap around the room for expansion and contraction. Matching the tongue to the groove, tap the pieces together with the supplied tapping block so as to not damage the pieces. Make sure to stagger the rows as you install the floor, generally 6 to 8 inches is fine. This way the joints at the ends of the boards don't line up.
Hi Sha! Thank you for sharing your story. That bathroom makeover sounds lovely. I too have always wanted to replace my existing bathroom door with a door with window panes. That sounds awesome. Recently I saw a local thrift store that sells salvaged doors and windows. It was packed the day I drove by, but it's on my list of things to do this summer. I was thinking of doing some etched glass and creating a new pantry door and new bathroom door. I don't know if I'll have time.